AREA C with BF/BS, Eyes Like Saucers and Mudboy: The Planetarium Project
sed2cd054 | Released in 2009 | Ltd Edition 500 copies | $12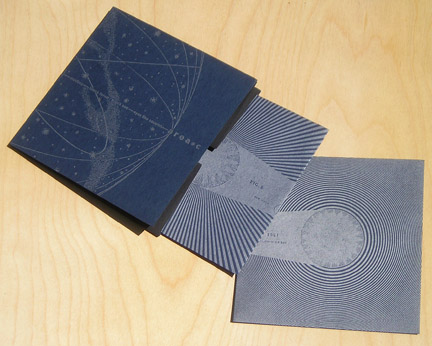 MP3s
Mudboy Basin (sample)
download
In live collaboration with
Black Forest/Black Sea, Eyes Like Saucers and Mudboy
Double full length cd release limited to 500 copies housed in a stunning and uniquely designed handmade hand assembled letterpress cardstock sleeve by discerning artist Amy Borezo at her Shelter Bookworks studio in Orange, MA.
We have been fans and have closely followed Providence's Area C project for several years. It was simply a matter of time before we would release something by this dynamic artist and these special recordings presented themselves as the obvious choice. AREA C'S work has always appealed in its ability to be at once hypnotically accessible balanced by subtle and brooding dark elements under the surface. It recalls both post-rock elements as well as the more experimental works of classic 70's German space rock groups. The live collaborations with the other Providence based artists push Area C's distinctive sound in compelling directions. This document represents over two hours of carefully selected music taken from many evenings of performances.

About The Planetarium Project:
In 2007, Erik Carlson of AREA C came up with the alt-Space idea as a way to explore interactions between sound and space in environments that are not normally viewed or used as venues for art. Its intent is to serve as a medium through which AREA C and other like-minded musicians could create new music that is inspired by and engages with unique architectural locations. An obvious first choice was the Cormack Planetarium, hidden within the slightly threadbare, Victorian-era Museum of Natural History in Providence, RI. These live performances – collaborations between AREA C and Black Forest/Black Sea, Mudboy and Eyes Like Saucers – became the basis of the Planetarium Project.
For each performance, AREA C and the collaborating artist composed a new, largely improvisational piece based on a visual score created by Carlson that corresponded to the planetarium display that he had designed with the planetarium staff, utilizing the planetarium's Zeiss projector and some of their more antique equipment. Recorded in almost total darkness, these live performances mix in a palette of live instrumentation with samples from of a range of cosmic phenomena, including whistlers, bow shock, and kilometric radiation: all forms of radio emission produced by the magnetic fields of planets and other cosmic bodies. The Planetarium Project weaves these sounds into a fabric that plays between three sets of extremes: analog+digital, electric+acoustic, high tech + low fi.
The dome of the planetarium is filled with millions of tiny perforations. When projected light hits this surface, it produces a blurred effect, causing a slight optical shimmer: a low-fi way of mimicking the shimmer of distance we feel when viewing the real night sky. The music composed for the Planetarium Project was inspired by the way this domed room warps the sounds and images created here, while also wrapping the audience and performers within them.
The tracks:
"The Basin of the Heavens" AREA C + Mudboy (29:52)
"Messier Object 45" AREA C + Jeffrey Alexander from Black Forest/Black Sea (29:59)
"Cassiopeia" AREA C + Black Forest/Black Sea (30:13)
"Lesser Dog, Greater Still" AREA C + Eyes Like Saucers (31:36)
The alt-Space performances were funded through a grant from the Rhode Island State Council.
ERIK CARLSON | BIOGRAPHY
Erik Carlson is a composer, media artist and architect based in Providence, RI. His work examines sound as an evocative presence, often acting as a marker, in the physical and mental spaces we inhabit. Since 2002 he has been recording and performing under the name AREA C, whose compositions work with timbre, texture and live loops, exploring cyclical relationships and the details of their gradual decay. Improvisation plays an important part in both recordings and live performances, encompassing extended explorations of minimal rhythm and melody, drawing on remnants of other times and places, outdated and untested technologies, signals sent out but never received.
In 2009, Carlson received the MacColl-Johnson Fellowship in music composition and he is currently working on new commissions for the NASA RI Space Grant Consortium and the LEF Foundation. His permanent sound installation ("Low Rez/Hi Fi," a collaboration with architect Meejin Yoon) can be viewed at 1110 Vermont Avenue in Washington DC, and he continues to compose for and organize site-specific audio performances and installations. AREA C has issued recordings on Students of Decay, Last Visible Dog, Trensmat and handmd. The latest album, titled Charmed Birds vs. Sorcery, the album reveals "an astonishingly refined and singular approach to guitar-based composition…. Glacial harmonics drift in and out of each channel, skittering, modulated notes pulse and surge, sputtering suddenly to luminescent manifestation before disappearing just as quickly." It was described by Brainwashed as "the work of a formidable artist hitting his stride."
D I S C O G R A P H Y
title format label
2009 the planetarium project 2x full-length cd Sedimental
2009 ebbs to a steady burn 3" cd ep handmd
2009 charmed birds vs. sorcery full-length cd Students of Decay
2009 touch pieces 3" cd ep Students of Decay
2009 Dreamsheep Vol.1 compilation track Dreamsheep (Italy)
2008 darkens the mind 50 min. cassette Sloow Tapes (Belgium)
2008 Sea of Rains full-length cd handmd
2007 haunt full-length cd Last Visible Dog
2007 trick with a knife 7" / cd / multimedia Trensmat (Ireland)
2006 Rare Youth compilation track Rare Youth
2006 traffics + discoveries full-length cd Last Visible Dog
2005 Invisible Pyramid compilation track Last Visible Dog
2005 speed studies #1 3" cd ep handmd
2005 haunted cobblestones #7 full-length cd Free Matter 4 the Blind
2004 no perfect waves 3" cd ep handmd
2004 catchment 3" cd ep handmd
2003 34 / 23 3" cd ep handmd
some press clips:
"..listening to Carlson working through these long-form explorations in concert with the other artists is a captivating experience. For a collection that often resembles a resplendent fusion of
No Pussyfooting
and
kosmische musik
, the musicians recorded the electro-acoustic settings in almost total darkness, with Carlson utilizing guitar, sampler, electronics, tapes, and drum machine and the others armed with their own idiosyncratic gear......All told,
The Planetarium Project
is not only a major addition to the AREA C discography but also a fabulous collection of explorative soundscaping that any listener with a jones for guitar-based experimentalism would be well advised to check out. There's no downside here, though one does wonder what Carlson could possibly do to follow it up."
-textura(Sept, 09)
"Obviously, a mere CD can't hope to capture the majesty and impact of such site-specific and visually enhanced performances, but the material collected here is quite memorable and almost uniformly excellent regardless.
The Planetarium Project
sets the bar intimidatingly high for the next installment. I wish I lived in Providence."
-Anthony D'Amico, Brainwashed(8/30/09)