EX MUS ENSEMBLE: Album No. 1
SEDCD65 | Released in 2018 | 300 copies | $8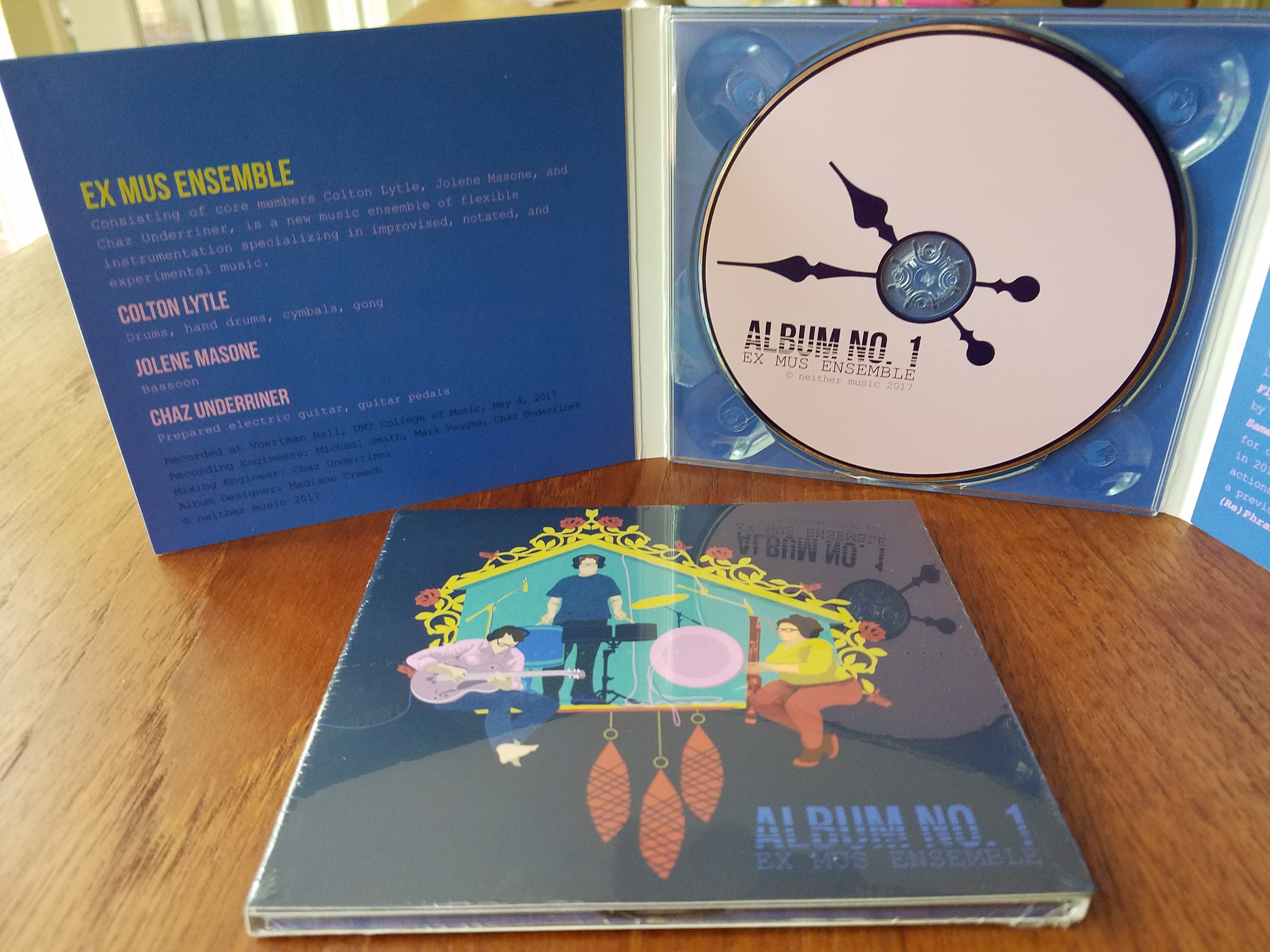 The Ex Mus Ensemble grew out of the Ex Mus concert series, which was was founded in 2012 by Chaz Underriner, Andrew Miller, and Jonathan Jackson in order to bring experimental music and intermedia art to the North Texas area. "Ex Mus" was chosen as a name from a common abbreviation of "experimental music."
In the summer of 2015, Colton, Chaz, and Jolene began collaborating on multiple experimental music programs—a concert of Christian Wolff's compositions, a score for Christie Nelson's choreography, and original works of structured improvisation.
The 32 minute cd release consists of six structured improvisations created between 2015 and 2017 with the goal to explore the sonic possibilities of bassoon, guitar, and percussion as a trio.
(for more information on Ex Mus and to listen to the pieces please clink the link at the bottom of this page)
Track notes:
In "Clock," we had a very clear image of an intricately carved, expertly crafted Bavarian clock falling apart.
"Phrases" is a score where each member of the ensemble takes a turn controlling the musical phrases.
With "Expectations", we explore various preconceived notions about our instruments and the music we play.
"Fly Piece" is simulation of a percussionist (Colton) being harassed by an errant, evil fly (Jolene).
"Same Energy, Different Instrument" was originally created as a score for choreographer Christie Bondade (Nelson)'s work of the same name in 2016. Both the choreography and the music explore related gestures and actions. The performance practice of this piece is to play live over a previously made studio recording of the work.
"(Re)Phrases" is an alternate realization of the "Phrases" score.
Album notes:
Ex Mus Ensemble, consisting of core members Colton Lytle, Jolene Masone, and Chaz Underriner, is a new music ensemble of flexible instrumentation specializing in improvised, notated, and experimental music.
Colton Lytle: drums, hand drums, cymbals, gong
Jolene Masone: bassoon
Chaz Underriner: prepared electric guitar, guitar pedals
Recorded at Voertman Hall, UNT College of Music, May _____ 2017
Recording Engineers: Michael Smith, Mark Vaughn, Chaz Underriner
Mixing Engineer: Chaz Underriner
Original artwork and design: Madison Creech