PARASHI: tape from oort cloud
Sed066/Skell023 | Released in 2020 | Ltd Edition 200 copies | $15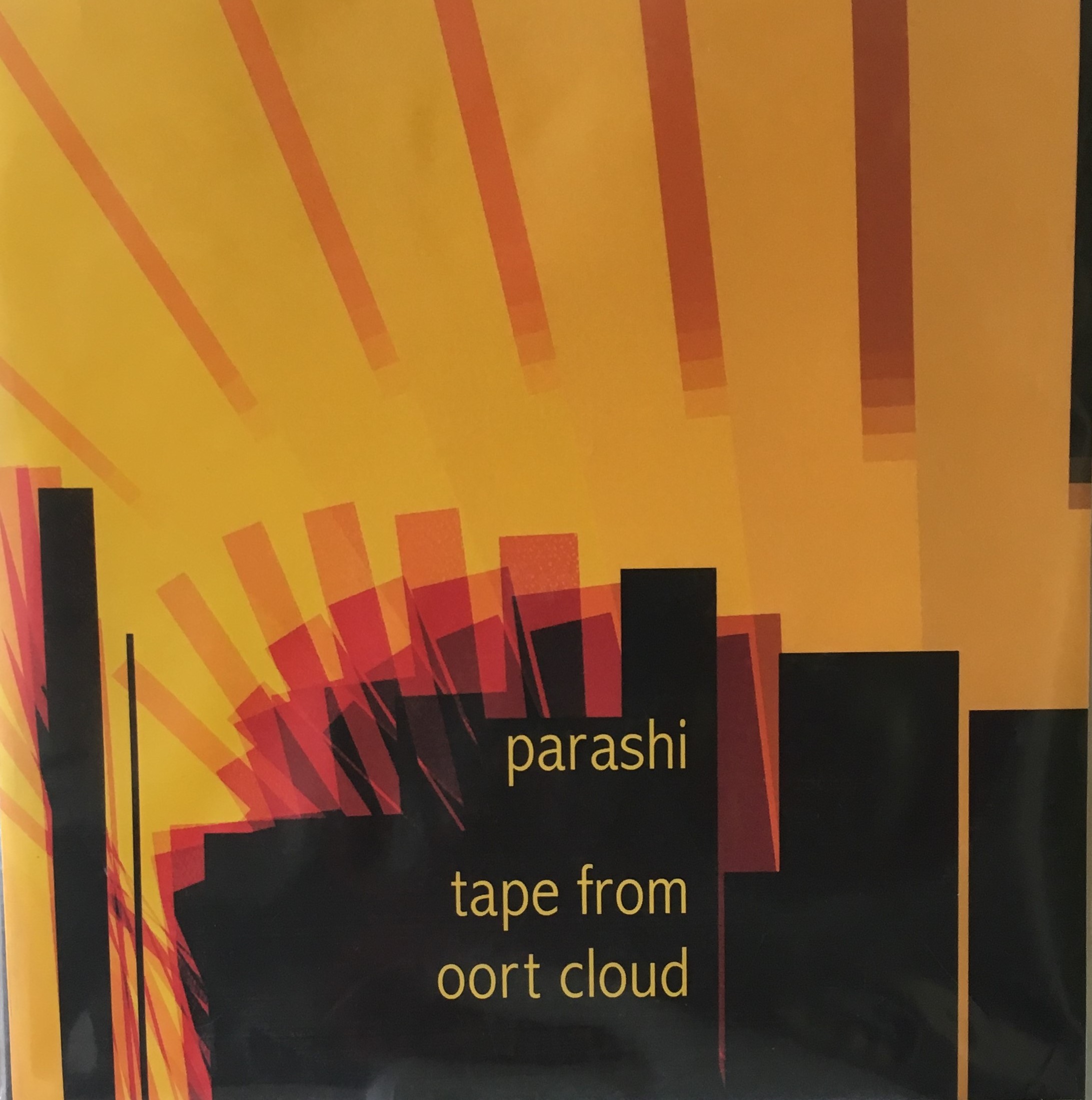 SEDIMENTAL is honored to partner with SKELL to release the latest majestic work from Mike Griffin's PARASHI: tape from oort cloud. Griffin has honed a cryptic aesthetic over the years: a type of noisy hermeticism in which elegance and refinement are fused to intense, sonically disparate noise-based electronics and sound sources. Over the two sides and four tracks Griffin conjures up complex, heavy, and nuanced narrative terrain that triggers buried images and emotions. Though PARASHI is a very specific solo project, Griffin's active involvement in the Albany scene (both locally and with others) and its voracious collaborative nature for all things musically intense informs his seasoned approach. Nothing is precious but what remains is essential. For SEDIMENTAL, this is our first vinyl project since OLIVIA BLOCK's "Karren" (2012) and marks our 48th release since our inception in 1992. For SKELL, this is our first vinyl release.
Side a: Side b:
The vanishing coast (10'59") 1) tape from oort cloud (11'50")
broadcast failures (8'55") 2) depths of babylon (8'08")
The Oort Cloud is theorized to be an enveloping elliptical cloud around our solar system. As such it is a collector/shaper of internal solar system detritus, in the form of comets and planetesimals. It protects the solar system by absorbing cosmic radiation. It embodies cosmic randomness, in its ability to produce destructive comets. The Oort Cloud is something that is theoretical, though the likelihood of its existence is high--so it can be viewed as a rational belief developed through empirical conjecture rather than superstition.
As far as relating the Oort Cloud to the cosmic egg: each are massive, unseen objects, one whose existence was believed in by a group of observers without empirical proof (alchemists instead of astronomers in this case). The ideas of protection and limitation were embodied by the cosmic egg. The cloud and egg are physically relatable to each other as a metaphor--the shell is necessary to the developing life inside the egg; and so is the Oort Cloud to the solar system.
Existence/consciousness is dependent upon things that are close and things that are impossibly far away.
ABOUT PARASHI
Mike Griffin's Parashi project has been releasing material since 2010. Parashi's sound utilizes a wide variety of improvised sound sources, in various states of interaction and decay. Pitch-shifted tapes, creaky analog pedals, primitive synthesizers, metal objects, percussion, voice, and murky field recordings all collide and reorganize themselves within Parashi's work. The resulting sonic constructions are imbued with a vitality that never distracts from the narrative focus of each piece.
Parashi has collaborated on releases with artists such as John Olson (Wolf Eyes), Anthony Pasquarosa, Noise Nomads, Rambutan, Belltonesuicide, Fossils from the Sun, HSFB, among others. He has been a member of Albany psych-rock troop Burnt Hills since 2011, and was a participating member of the long-running Albany Sonic Arts Collective. He also plays guitar in Sky Furrows, backing up poet Karen Schoemer along with fellow Burnt Hillians Philip Donnelly and Eric Hardiman. Griffin has played shows as a member of Century Plants, Chalaque, and Desmadrados Soldados de Ventura.
Parashi has played on bills with a variety of artists from the US and UK underground, such as: Jason Lescalleet, Chris Corsano/Bill Nace/Steve Baczkowski trio, Stefan Christensen, Jon Collin, MV/EE, Dog Lady Island, Matt Weston, Wet Tuna, Jen Kutler, Nathan McLaughlin, Rambutan, Noise Nomads, Anthony Pasquarosa, Fossils from the Sun, HSFB, Cruudeuces, Pigeons, Tongue Depressor, Doug van Nort/Al Margolis Duo, Wether, Roped Off, Cenote Glow, Mr. Matthews, Loud & Sad.
PARASHI SELECT DISCOGRAPHY
"the Fifth Rome" CS (Lonktaar Records, 2017)
"Pilot's Salt" LP (Retrograde Tapes, 2014)
"Tovarich" CS (Fabrica Records, 2014)
"Particle Collider" CS (Tranquility Tapes, 2013)
"Book of Nothing" CS ((((CAVE))) Recordings, 2013)
"Troika" CS (Stunned Records, 2011)
"Parashi-Pasquarosa" 2xCDR duo with Anthony Pasquarosa (4th Eye Musick, 2019)
"Spykes-Parashi" CS duo with John Olson (Oxtail Recordings, 2017)
"Monomania" CS Rambutan + Parashi (Tape Drift, 2016)
"Mike Griffin's work as Parashi is…rich with alternating harshness, beauty, and deep studies of sound and sonic textures…done brilliantly." -Creaig Dunton/Brainwashed, on the "Pilot's Salt" LP
"Parashi…meets Olson's increasing array of extended skronk technique with knotted webs of damaged electronics and tape buggery. It's a neat pairing…" -Tristan Bath/the Wire, on the Spykes-Parashi duo tape
"…[Parashi's] style is metabolic, dingy, haunting, and metaphysical…." -Dee Petri/Petriblog, on the "Book of Nothing" tape
"…a sprawling effort of glorious dismay and intense focus…with post-industrial drones and heaving, creaking degradation…" -Bobby Power/Decoder, on the "Pilot's Salt" LP